Polyester is a fabric commonly used in the field of apparel fabrics. It can be roughly divided into two categories: polyester filament and polyester staple fiber. There may not be many people who know the concept of polyester staple fiber or filament, so polyester staple fiber What is the difference between filament and filament?
What is polyester staple fiber?
Generally speaking, polyester staple fiber can be divided into three categories: large/medium/small chemical fiber;
Large chemical fiber: This is a kind of polyester staple fiber spun through melt direct spinning or PET chip spinning. It is characterized by bright color and strong stability of the fabric, and the fabric has relatively few defects.
Sinochem: The difference between it and Dachem is that it does not use the process of melt direct spinning but has been spun PET chips or PET back material. The price and quality of Sinochem is between the large chemical fiber and the small chemical fiber. In order to ensure the quality of fabrics and save costs, some factories will produce such fibers in large quantities.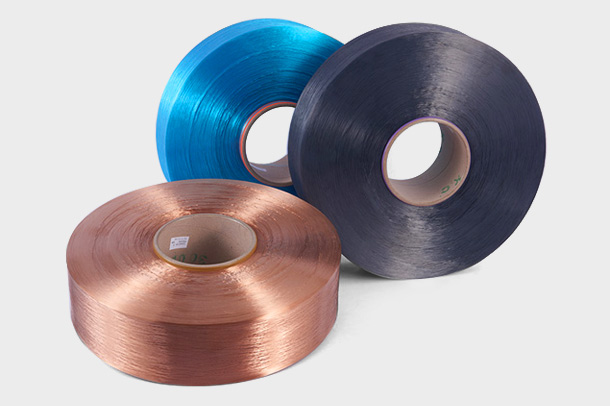 Small fiber: It only uses the process of PET back spinning, and the price and quality are relatively low. It is often used to produce textile fabrics or auxiliary materials (fillers) that do not require high quality.
The PET chip spinning mentioned above, the short fibers made by this process generally have no defects, and the fiber thickness is relatively uniform, the fabric feels smooth and soft, and the strength is also very good. The small chemical fiber of polyester staple is not produced in this way, so its various physical indicators are not only medium chemical fiber and large chemical fiber.
What is the difference between polyester staple fiber and polyester filament?
1. The first difference between polyester staple fiber and the length is the difference in length. The length of staple fiber is generally within 10 centimeters, while filaments start at 1,000 meters.
2. Then there are differences in the characteristics between them. Short fibers are generally blended with natural fibers such as cotton and linen, which will have characteristics such as cotton and linen, and the cloth surface of the fabric made of filaments will be brighter and smoother.
3. There are also differences in classification. There are mainly two types of polyester staple fibers, wool and cotton, while filaments can be divided into three types (POY, FDY, DTY).
4. Polyester filaments are usually continuous and staple fibers are made by cutting the filaments.