Abstract:Ultra-high molecular weight polyethylene fiber is referred to as UHMWPE fiber, also known as high-strength PE fiber. Its...
Ultra-high molecular weight polyethylene fiber
is referred to as UHMWPE fiber, also known as high-strength PE fiber. Its molecular weight is between 1.5 million and 8 million, which is dozens of times that of ordinary fibers, which is the origin of its name. UHMWPE fiber is one of the three major high-tech fibers in the world today, and it is also the toughest fiber in the world. Its strength is 15 times that of steel and 2 times higher than that of carbon fiber and aromatic 1414. It is currently the main material for making body armor.
UHMWPE fiber has unparalleled performance advantages. At present, there is no simple polymer material with so many excellent properties, and it has the reputation of "the king of plastics".
UHMWPE fiber is light in weight, with a density of only 0.97 glem', and has strong chemical inertness. Strong acid and alkali solutions and organic solvents have no effect on its strength. And it has excellent weathering resistance and UV resistance. After 1500 hours of sunlight, the fiber strength retention rate is still as high as 80%. It is still ductile at the temperature of liquid ammonia (-269 ℃), and can maintain excellent impact strength in liquid nitrogen (-196 ℃), which is also unmatched by other plastics. In addition, the wear resistance and bending resistance and tensile fatigue properties of UHMWPE fibers are also the strongest among the existing high-performance fibers, with outstanding impact resistance and cutting resistance. A UHMWPE fiber that is only a quarter of the thickness of a hair is basically cut with scissors. Compared with other engineering plastics, it mainly has shortcomings such as low heat resistance, stiffness and hardness, but it can be improved by methods such as "filling" and "cross-linking".
The basic theory of UHMWPE fiber was put forward as early as the 1930s. However, the real breakthroughs in technology are gel spinning and plastic spinning. In the 1970s, the University of Leeds in the United Kingdom first successfully developed high molecular weight polyethylene fibers with a molecular weight of 100,000. In 1975, the Dutch DSM company invented the gel spinning method using decahydro tea as a solvent, and successfully prepared UHMWPE fiber, and applied for a patent in 1979. After ten years of hard work, it has been confirmed that gel spinning is an effective method to manufacture high-strength polyethylene fibers, which has industrialization prospects, and its raw materials are easy to obtain and production costs are low. UHMWPE fibers immediately attracted the attention of the world's industrial powers.
Due to its many excellent properties, UHMWPE fibers have shown great advantages in the high-performance fiber market, including mooring ropes in offshore oil fields to high-performance lightweight composite materials. Equipment and other fields play a pivotal role, especially in the military field. In aerospace engineering, due to its light weight, high strength and good impact resistance, UHMWPE fiber composite materials are suitable for wingtip structures of various aircraft, spacecraft structures, buoy aircraft, deceleration parachutes, etc. In the civilian field, ropes, cables, sails and fishing gear made of UHMWPE fibers are suitable for marine engineering, and the breaking length under dead weight is 8 times that of steel ropes and 2 times that of aramid fibers. In industrial applications, UHMWPE fibers and their composites can be used as pressure-resistant containers, conveyor belts, filter materials, automotive buffer boards, etc. In sporting goods, helmets, snowboards, sailing boards, fishing rods, rackets, bicycles, gliders, ultra-lightweight aircraft parts, etc. have been made, and their performance is superior to traditional materials. In medicine, it has been used in the fields of dental tray materials, medical implants and plastic sutures, and has been used clinically.
ULTRA HIGH MOLECULAR WEIGHT POLYETHYLENE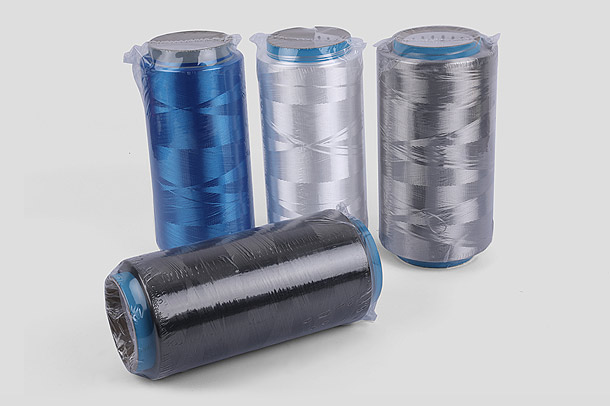 Zhejiang Hengyuan Chemical Fiber Group Co.,Ltd. is a professional China ultra high molecular weight polyethylene yarn manufacturers and ultra high molecular weight polyethylene yarn factory, Established in 2006 ,located in YaQianTown Xiaoshan Hangzhou – One of the Center of polyester yarn Industry in China