Abstract:Dope-Dyed Polyester Besides being a green solution, dope-dyed yarn is also cheaper than conventional dyes. It can be sup...
Besides being a green solution, dope-dyed yarn is also cheaper than conventional dyes. It can be supplied in a wide variety of colours, from 50D to 600D, and is suitable for many applications. Its benefits include light and colour fastness, and good washing performance. In addition, it has lower energy consumption and water usage. Dope-dyed polyester is considered to be a more efficient production method, with a shorter lead time, thus enabling faster delivery of goods.
Dope-dyeing is a process of creating yarns by adding a masterbatch colorant to the polymer melt. The masterbatch colorant improves the color fastness properties of the fibres, which is then spun into a fabric. It can be used for many different types of synthetic fibres, including nylon, polyethylene, polypropylene, and polyester.
Dope-dyeing has a number of benefits, including its eco-friendly nature, high durability, and resistance to fading. Dope-dyeing also helps to reduce pollution, energy use, and wastewater discharges. This process is particularly suited to fabrics requiring bright colours. It also saves a significant amount of water, which is used for conventional dyeing processes.
Dope-dyed yarn is also widely used in the automobile industry. It is a prime bonding material for vehicle parts, and it can be used to produce automotive carpets. The growing demand for apparel, especially from the auto industry, is expected to contribute to the growth of the dope-dyed yarn market.
In addition, dope-dyed polyester can be used for many other applications, such as sportswear, athletic equipment, and other textile products. It is also more durable and has better sweat wicking properties. In addition, dope-dyed yarn can be used to achieve a colour gradient effect. This feature allows for a rainbow-like look. In fact, PALTEX dope-dyed fabrics are designed to deliver optimal performance.
Dope-dyed polyester is also a more affordable solution for manufacturers that are currently using the traditional piece dyeing process. It is a more efficient way to produce fabrics, with a shorter lead time and greater satisfaction for customers. In addition, dope-dyed polyester is a more sustainable process, and can help to lower CO2 emissions. Dope-dyed yarn is a cost-effective alternative to conventional dyes, which uses large amounts of chemicals and water.
Dope-dyed yarn is becoming an increasingly popular choice among automobile manufacturers, who are turning to this product as a way to increase the efficiency of their production. It can be produced with the same amount of raw materials, but is cheaper and more durable. It also helps to reduce the production costs of the manufacturer, while supporting sustainability.
Dope-dyed yarn is a great choice for the automotive industry, because it can be used to create carpets, and is ideal for abrasion resistance. It is preferred for automotive carpets because it can be made from nylon-based material, which is a good abrasion resistant fibre.
In addition, dope-dyed yarn is an environmentally friendly product, with a shorter lead time and less energy use. It is a more efficient solution for the textile industry, which has been one of the largest polluters of the environment.
POLYESTER POY YARNS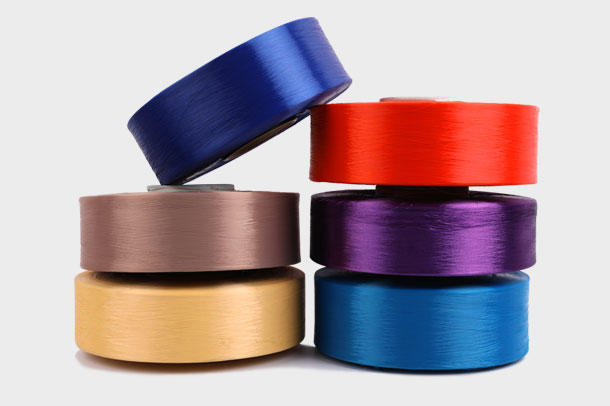 In order to guarantee the quality of products, we actively introduce advanced technology and equipment at home and abroad, ongoing technological transformation and innovation, improve the level of production. Up to now, the group has owned the production equipment which were introduced from the developed countries such as Germany and domestic well-known companies ,and owned a complete set of production line matched with the equipment , leading to annual output of 120,000 tons of spinning and draw texturing . The group has imported the ISO9000 quality certification system, and established a mature system of quality management . Excellent quality always comes from sophisticated equipment and excellent management. More than 80% of the key production equipments in the group are introduced from Germany and domestic famous enterprises, reaching the international first-class equipment level.