Abstract:Advantages of Polyester Dope-Dyed Yarn Dope-dyed polyester yarn is environmentally friendly, as it uses no water during ...
Dope-dyed polyester yarn is environmentally friendly, as it uses no water during the dyeing process. It also has a lower production cost compared to traditional piece-dyed polyester yarn. Also, it has better wash and perspiration fastness. In addition, it saves on production and disposal costs.
The advantages of dope dyed polyester yarn are many. First, it saves energy, water, and chemicals. It also saves energy and carbon. In addition, it can produce higher-quality materials. Dope-dyed polyester yarn is also highly efficient. It is also more eco-friendly than conventional yarn dyeing because it requires no water or chemical solvents.
Secondly, dope-dyed polyester yarn has excellent fastness to sunlight, perspiration, and washing. It is widely used for many products that require good fastness to sunlight. Moreover, this fiber has a rich aesthetic feeling. These characteristics make it an ideal choice for clothing and other products that require good color fastness.
Thirdly, dope-dyed polyester yarn is versatile and affordable. It is widely used in various applications, including clothing and home textiles. It is available in a wide range of denier and material types and is suitable for a variety of weaving processes. It also dries quickly, making it ideal for garments. These advantages make it an ideal choice for many manufacturers, and make it an excellent investment.
Dope dyed polyester yarn is environmentally friendly and reduces energy and water consumption by over 80 percent. It also reduces the energy needed to produce a kilogram of textile material. In addition, dope dyed yarn produces garments with superior colour fastness and durability. Dope dyed yarn also reduces the need for harmful chemicals in conventional dyeing.
Polymer dope dyed yarns are a relatively new category of textile products. These materials are created through a one-step process in which a masterbatch colorant is added to the polymer melt before spinning. A dye is then added at the end of the process. The finished product is then spun and is ready for a variety of textile applications.
This process is similar to that of producing raw filaments. The only difference is the addition of a masterbatch colourant, which is a mixture of pigment and dyestuff. This improves the dye's colour fastness and ensures a rainbow-like appearance. The process can be used for polyester, nylon, polyethylene, and polypropylene.
POLYESTER POY YARNS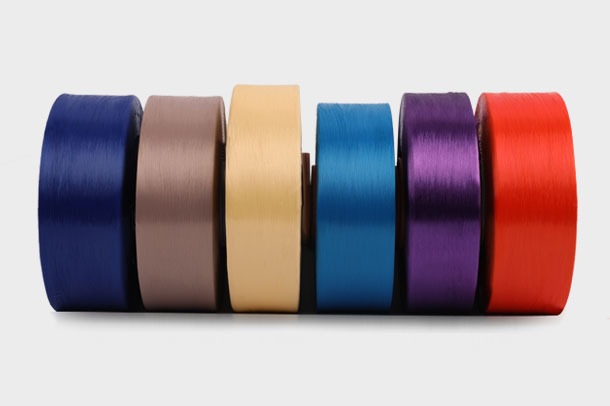 In order to guarantee the quality of products, we actively introduce advanced technology and equipment at home and abroad, ongoing technological transformation and innovation, improve the level of production. Up to now, the group has owned the production equipment which were introduced from the developed countries such as Germany and domestic well-known companies ,and owned a complete set of production line matched with the equipment , leading to annual output of 120,000 tons of spinning and draw texturing . The group has imported the ISO9000 quality certification system, and established a mature system of quality management . Excellent quality always comes from sophisticated equipment and excellent management. More than 80% of the key production equipments in the group are introduced from Germany and domestic famous enterprises, reaching the international first-class equipment level.